13 Best Free Pcb Design Gerber Viewer software
Release date:2022-08-30 15:56:05 Number of views:0
The PCB industry's need for computer-aided design and manufacture is always paramount. However, when designing, there are various PCB NC formats to use. Gerber, Excellon, HPGL, and HPGL-2 are some. As a result, the need to view these PCB design files. Here, our focus is on the best free Gerber viewer. Generally, there is various free Gerber Viewer software. Some are view only or Gerber editors as well. They allow you access to the information stored in a Gerber file. Let's review the best free Gerber viewers for your circuit board projects.
1. What is the Gerber Viewer?
The official logo of the Gerber format
Source: Wikipedia
The Gerber Viewer is software built to view files in the Gerber, Excellon, and HPGL/HPGL-2 formats. This file viewer is an advanced tool with many features, such as zooming, marking, measuring, etc. Also, it has multilayer viewing that supports mouse wheel panning and zooming.
The Gerber Viewer also supports PCB designs' 2D/3D vector image formats. Most PCB manufacturers use the Gerber Viewer as a standard image conversion tool.
2. What does a Gerber file contain?
A Gerber file contains comprehensive information on a PCB design, layer by layer. These layers include the silkscreen layer, pad layer, stencil layer, solder-mask layer, and circuit layer. Often, these Gerber files exist in a zip file format exported by an R&D personnel. Therefore, PCB factories refer to them as a Standard Production File because they are crucial in the production of PCBs for customers.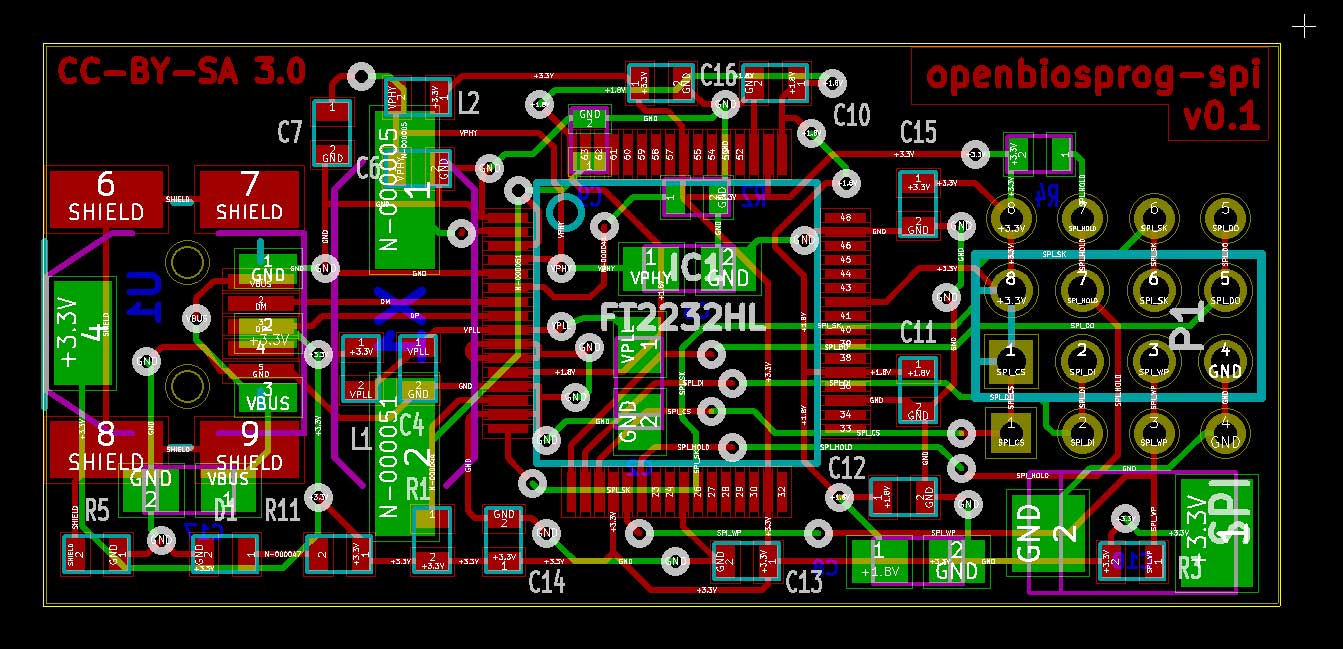 A typical Gerber format file
Source: Wikipedia
3. What does a Gerber Viewer do?
A Gerber Viewer lets a user assess the graphics of a Gerber file as against reading too many numbers. Also, it enables machines from a PCB factory to deploy the Gerber file written for the finished board.
Several functions in Gerber Viewer exist. The common ones include scale, compare, view, print, show drill hole size, calculate copper surface area, etc.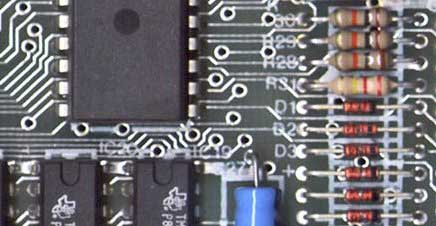 A printed circuit board showing drill areas and conductive traces
Source: Wikipedia
4. Best free Gerber Viewers
While some software allows you to view the Gerber files, some also let you edit the Gerber PCB designs. So, the following list comprises the best free Gerber viewer software for Windows in no particular order.
ViewMate
ViewMate is among the top free GRB file Viewers. It is a simple tool with extensive viewing options. It allows you to select the unit distance between components such as: mm, inch, cm, and mil. Also, it has functions for adding paths/traces like 90 degrees trace, orthogonal trace, circle, elbow, and others to a diagram. Although it does not permit saving the drawing, it allows printing these new additions.
GerbMagic
GerbMagic is another open-source Gerber viewer software available with multiple viewing tools. It has vital features applicable to different Gerber file layers. For example, it has a zoom feature for aligning and moving the selected design. There are also scale and mirror options available here.
GerberLogix
GerberLogix is among the best and simplest GRB file viewer software for Windows. It has layer options like view, select objects, zoom objects, etc. This advanced software allows you to view and manage the layer visibility of Gerber files.
Like the others, measuring the distance between points, objects, and centers is possible. While it lets you change colors for an enhanced view, you can preview the loaded design before printing. Further, it is possible to export complete or visible areas such as jpg, png, tiff, and BMP.
GerberGrab
GerberGrab enables the essential tools for viewing GRB files. For example, the top and bottom views of a PCB layer are easily visible with this software.
Also, you can search shapes, move, scale, and rotate components. In the PCB industry, it is precious to PCB manufacturers who need to create and check bills of material, build placement lists, or an automated report with details.
ZofzPCB
This software is a unique GRB file viewer. ZofzPcb gives you advanced options for individually peeling layers of a circuit board design. As a result, you obtain details of components like the silver screen, copper, solder mask, etc.
Also, when you scroll with the mouse and press the respective function buttons, there are many other possibilities. For example, Zoom is (F5), Spread (F7), and Peel (F6).
Gerber Viewer
As the name suggests, Gerber Viewer is an open-source viewer for Windows OS. It contains viewing options that allow you to bring in Gerber files for viewing. Gerber Viewer has tools that give you a top and bottom design view. Hiding layers of a design file is also possible. Unlike some other software, Gerber Viewer allows importing Gerber IPC2581 and 724-X files. You need to select and deselect them.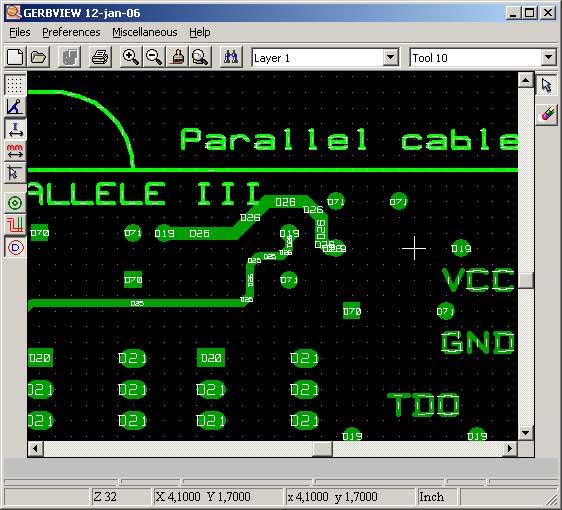 An open window of Gerber Viewer
Source: Wikimedia Commons.
Viewplot
Viewplot is a paid Gerber file editor. However, it lets you view them for free. And it provides a good view of the Gerber file design layers too. It displays each color of layers differently so that when you select a layer, it highlights that layer. There are options for adding text, circles, rectangles, arcs, etc. But, these files remain for viewing purposes. Therefore, they won't be saved.
In addition, you can turn on/off the Grid view anytime. And Diagram dpi is changeable from 300 up to 2400.
GerbEx
GerbEx is another open-source GRB file viewer with simple viewing options. Move and zoom the design board to obtain different views. It also comes loaded with different colors for additional layers of your drawing. So, you can hide/unhide and duplicate layers of your PCB design as you build.
FlatCam
The FlatCam serves as a Gerber viewer and a Gerber editor simultaneously. It allows you to edit or create a PCB panel from scratch. With a layer-wise view, you can select a component to see its properties before applying them. Further, it allows the measuring of component distances in mm and inches. You can also isolate the board cutout, routing, and non-copper regions to get a better view.
DFM Now
DFM Now gives a detailed view of Gerber files. That is, the top view and bottom view of a drawing are easily visible on this software. All other file layers are also visible. You only need to choose the show/hide option.
Also, you can adjust the slider zoom for easy viewing. Other options allow you to turn the PCB board translucent, making component information visible when clicked.
LayoutEditor
This software is also a free Gerber editor for viewing selected layers of a PCB design. It has enhanced tools for measuring the distance between objects, moving and rotating, and zooming objects.
There are various editing options for your Gerber files on LayoutEditor. For instance, you can add designs to a PCB drawing, like a path, polygon, cell, box, etc. Also, there are options to copy layers, add, mirror, merge, and delete them. You can manipulate components too.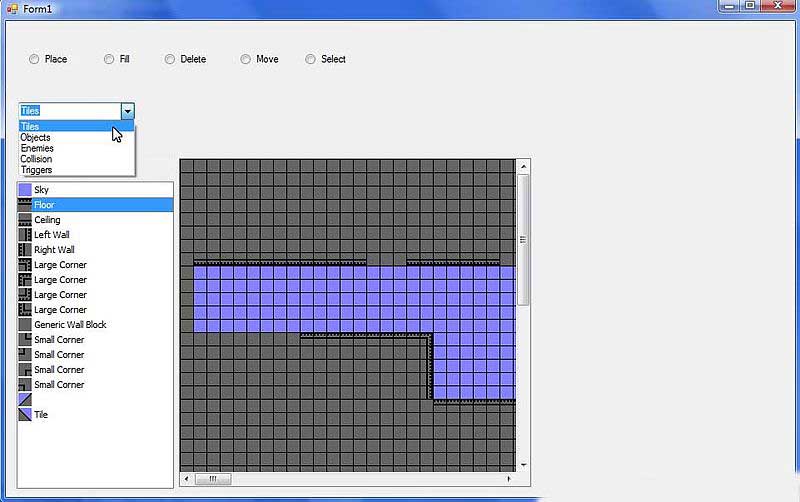 LayoutEditor shows a dropdown selection of layers
Source: Wikimedia Commons.
GC-Prevue
Besides viewing and printing Gerber files, this software supports CAM tools and views CAD drawings for free. Like the others, it is easy to hide and unhide blank spaces and layers and delete and import them. Also, GC-Prevue lets you rotate and mirror diagrams along the x/y axis.
Gerbv
Gerbv is not exclusive to Windows alone as it runs on Unix platforms too. However, it is a free native Linux application for viewing Gerber RS-274X files, CSV pick-and-place files, and Excellon drill files.
Gerbv is a utility software rich in features that let you analyze and edit Gerber files like the others. Its numerous tools are handy and user-friendly too.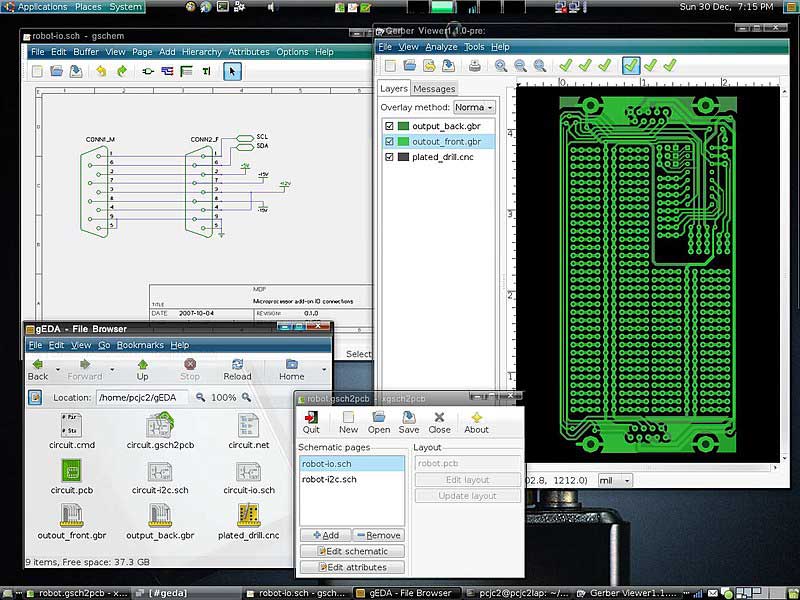 Gerbv showing a connector design
Source: Wikimedia Common.
Conclusion
A Gerber Viewer software helps you view PCB component layers separately. As a result, it allows you to edit your design and save it in raster or vector formats for an enhanced view. The best free Gerber Viewers also export a finished design in various readable formats like JPEG, PDF, PNG, SVG, etc.
At this point, you have learned the various free Gerber Viewers for your next electronic project. But if you need additional guidance with a Gerber Viewer, feel free to contact us.
Comment on this article here

Ripple
​Hi everyone, I'm Ripple, Sales Director of KFPCBA Tech Ltd. If you are looking for a one-stop PCB and PCB assembly manufacturer in China, KFPCBA is your best choice! Please feel free to contact our team! Thanks!
Contact me now
Relevant content you may be interested in