PCB manufacturer: An Introduction to rogers PCB laminate Material
Release date:2022-09-22 14:58:13 Number of views:0

What are rogers material pcb?
Double-sided Rogers high-frequency circuit board, reliable quality, and price advantage. Does your product have special signal requirements for PCB circuit boards? High-frequency PCBs can meet special signal requirements.
High frequency printed circuit boards, also known as RF (Radio Frequency Performance) PCBs, are generally at frequencies of 500MHz or above, which makes them ideal for high-speed designs, as well as commercial microwave and RF applications, due to their low Dk/Er (dielectric constant), Control the loss of impedance transmission lines and materials.
Higher transmission frequencies also provide faster signal flow, which is necessary for today's increasingly complex electronic switches and other components.
Special materials for high-frequency circuit boards
High-frequency circuit boards require special materials to meet high-frequency requirements, and any change in the DK/ER value of these materials will affect the impedance of the RF PCB circuit board. Many PCB designers use this special material to reduce electrical loss and signal loss to achieve low cost and high quality.
PCBs can be found in every electronic device. They provide the support structure for the elements and provide electrical connections between them. Connections are made in the form of copper paths to which the component leads are soldered.
Depending on the type of tiles, type of elements, and purpose, various tools, preparations, and assembly techniques are used. In the article, we will indicate solutions that will improve the work with PCBs. We will advise you on how to prepare a small studio for all activities performed at various stages of production, assembly, and service of printed circuit boards.
Common Materials for PCB Manufacturing
PCBs can be made of various materials, although the most common is a fiberglass laminate hardened with epoxy resin. It has the proper dielectric properties, is tough, flexible, and can be cut into a variety of shapes and sizes.
There are various processes for producing printed circuit boards on such a substrate - from fully automated production lines, from which thousands of PCBs come daily, to small workshops where individual copies are produced. Printed circuits are often designed and manufactured, also at home, by hobbyists and enthusiasts.
Installation is an inseparable step in the preparation of the tile. As in the case of PCB production, various processes and technologies are available here, adapted to both series production, e.g. reflow soldering, and piece production, such as manual soldering with a soldering iron.
There are also situations when electronic equipment fails. Then the ready, assembled board is delivered to the workshop stand, and the repair activities usually involve removing the damaged elements and installing new, functional ones. The equipment and repair techniques used in this type of operation may be completely different from those used at the production stage.
In this article, we will deal with a very extensive topic, which is the preparation of the position and equipment, as well as materials and preparations necessary for PCB assembly and repair work. We do not take into account professional production solutions; we will focus on working with printed circuits in a small workshop and home studio.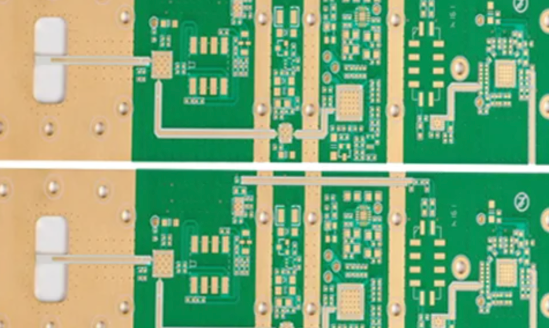 Rogers Base Materials
Rogers Corporation specializes in the design and manufacture of RT/duroid, Ultralam, TMM, and RO series high-frequency base materials. The main features of such lamellas are low dielectric losses and a relative dielectric constant in the range from 2.3 kHz to 10.2 kHz.
The materials have standard thicknesses and double or single-sided plating based on electrodeposited/rolled copper, brass, or aluminum foil.
Scope of application
Automotive and consumer electronics

Antennas and high-speed digital equipment

Military equipment, modern corps

Wireless communication systems
Glass fiber reinforced PTFE composites
These are designed as an alternative to PTFE materials (reinforced fluoroplastics). They have low anisotropy of dielectric losses and moisture absorption. In addition, this type of RT/duroidХХХХ has the lowest dielectric constant among Rogers products. They are used in high humidity conditions.
Ceramic-based PTFE laminates
Excellent stability of dielectric properties, the possibility of use in a wide range of temperatures, and optimal characteristics of the coefficient of thermal expansion (similar to the CTE of copper) are the features of this type of base material. It is used in aerospace engineering.
Based on ceramics and PTFE
The base materials of the RO32XX/RO30XX series have excellent microwave electrical performance. Thermostable. They are used in the creation of hybrid assemblies ROХХХХ/FR4 and in the manufacture of multilayer printed circuit boards.
The main difference between RO32XX and RO30XX is the content of combined layers (PTFE/reinforced laminate or PTFE+ceramic) designed for the increased mechanical strength of the base material.
Based on ceramic with the addition of a thermosetting polymer
The RO40XX series has high-quality microwave characteristics (analogous to composite materials containing fluoroplastics) and has a simple manufacturing technology combined with the traditional processing of FR4 - reinforced textolites.
RO40XX is made of glass fiber reinforced. The glass transition temperature is over 280 ˚. In the process of creation, a layer of thermosetting polymer with ceramics is applied to the fiberglass web. As a result, this kind of base material does not need additional plasma treatment. The series includes refractory coatings.
The RO43XX series is based on laminated material. The products have high dielectric characteristics (up to 6.15 GHz), which, in turn, made it possible to reduce the total area of the printed circuit board surface by up to 30%. The base material is heat-resistant and easy to process (it is actively used when creating plated holes).
Reinforced Ultralam XXXX laminates
Laminates are made based on fiberglass (grade 1080). They have a high degree of reliability. They are used in antennas, wireless communication systems, and as accessories for stationary cellular communication stations.
Hydrocarbon ceramics TMMXX
The TMM series (Thermo Stable High-Frequency Laminates) is based on hydrocarbon ceramics. Features of materials: high rigidity, stability of mechanical/electrical parameters, and the possibility of application in a significant temperature range. They are used in satellite equipment, flexible printed circuit boards, and communication systems and in the production of antennas.
Rogers is a material manufactured for rigorous technical requirements, used for high-frequency equipment requiring high signal stability, operating frequencies up to tens of GHz.
In some designs, the dielectric properties of the PCB are very important. Whether it is a high frequency, RF, or microwave application where power management is a prerequisite of the product, the PCB dielectric properties of the FR4 material cannot be met.
Why use Rogers material?
FR4 is the basic material used for projects that need to balance cost, electrical properties, durability, and product performance. But if the device needs high performance, the FR4 cannot meet it, Rogers is the optimal choice because of the following advantages:
Low signal loss

Low dielectric loss

High dielectric constant

Low circuit production cost.
A dielectric material is a material with poor electrical conductivity and is used as an insulator in a PCB structure. Ceramics, porcelain, mica, glass, plastics, and some metal oxides are good insulating dielectric materials.
These PTFE compounds are oriented to maximize benefits in accordance with the manufacturer's intent.
Why do pcb manufacturers use rogers material pcb?
Rogger material has the lowest DK coefficient on the market today. Due to its dielectric constant being 1.96 at 10Ghz frequency. The RT Duroid 5880 supports broadband applications where low signal attenuation is required.
It is a lightweight, single, low-density 1.37g/cm3 PTFE compound with and low coefficient of thermal expansion on the Z axis, providing the ability to produce high-frequency circuitry through the PTHs and allowing large signals to pass through.
The basics - the right place
Before starting any work, you should choose a suitable place. Ideally, it should be a large space, such as a separate room or garage, or basement. However, recent months have shown that we often do not have much room for maneuver and we want to organize such workshops at home.
Regardless of the selected room, it is worth keeping a constant temperature. Its changes can cause the formation of moisture, which has a very negative effect, not only on PCBs. Air humidity is an equally important and often neglected parameter.
At low humidity values, ESD electrostatic charges are very easily generated, which will contribute to the damage of semiconductor elements. At home, it is also essential to ensure high air circulation in the room - the studio. It is best if there is a window that can be tilted and a ventilation grille.
Workplace
A professional workbench has many advantages, but in home conditions, a solid desk with a few necessary elements will be a success. First of all, you should take care of proper lighting. The recommended solution is to use at least two light sources. We can use a special workshop lamp that illuminates with appropriately diffused light, and additionally, if the station has a shelf located above the working area, we can mount a LED strip under it. This configuration will significantly improve the lighting of the main worktop and the area around it.
When organizing a workplace, it is worth taking care of space for storing tools and materials. Additional drawers, organizers for tools, and stands for PCBs (photo 2) will facilitate work and facilitate keeping order. For safety reasons, all metal parts of such equipment should be earthed.
Working with printed circuit boards also requires a suitable chair. Workshop chairs are available on the market, the surfaces of which are properly contoured, thanks to which the work will not be so tiring for us and facilitates maintaining the correct position. This way we will avoid back problems in the future.
Comment on this article here

Ripple
​Hi everyone, I'm Ripple, Sales Director of KFPCBA Tech Ltd. If you are looking for a one-stop PCB and PCB assembly manufacturer in China, KFPCBA is your best choice! Please feel free to contact our team! Thanks!
Contact me now
Relevant content you may be interested in