Come and watch | KFPCBA's 24-hour global live broadcast has been officially launched
Release date:2022-03-03 10:14:31 Number of views:0
KFPCBA's global 24-hour online live broadcast has been officially launched, and it has exceeded 60,000 views in just ten minutes. The live broadcast room is extremely popular.
KFPCBA live broadcast factory, SMT workshop officially unveiled
KFPCBA showed the public a 3,000-square-meter dust-free SMT workshop through the lens, and also showed 7 fully automatic SMT production lines and multiple high-end equipment, including: Yamaha YSM20R, ten temperature zone nitrogen reflow oven, solder paste printing machine , online SPI, online AOI, X-RAY and other high-end equipment. The various processing links of PCB assembly were broadcast live, and several important processes such as PCB cleaning, solder paste printing, online SPI inspection, component placement, reflow soldering, and online AOI inspection were displayed in an all-round way.
24-hour factory live broadcast, DIP workshop display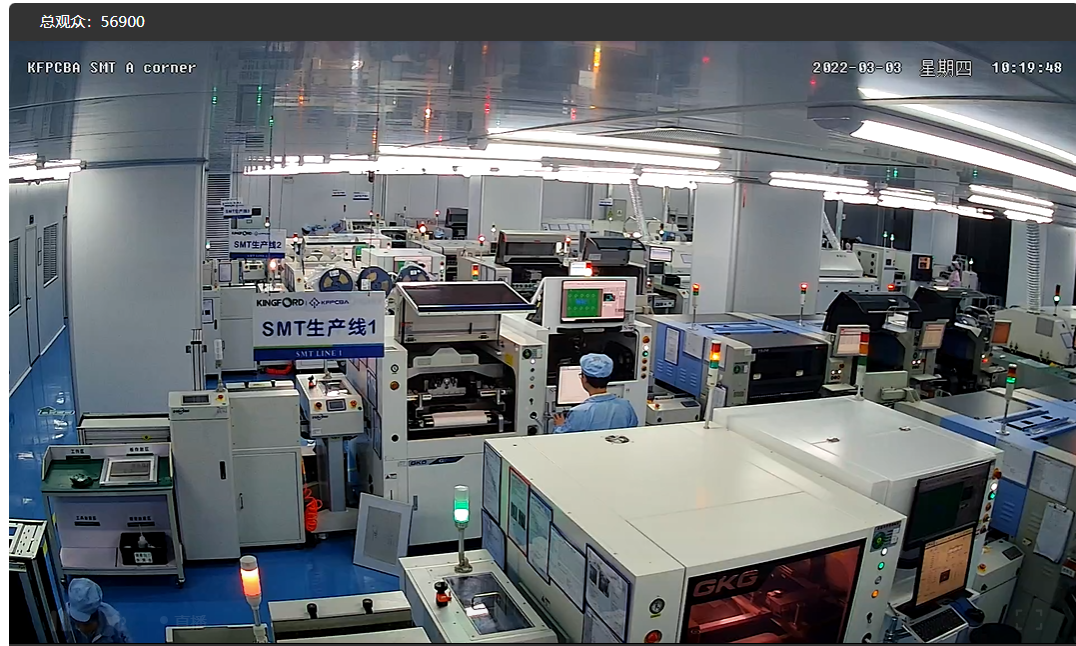 The live footage not only shows the 800㎡ DIP workshop, but also shows the whole process of DIP plug-in production, including plug-in, wave soldering, foot cutting, inspection, testing, packaging and other production and processing links. I just want to let global customers witness with their own eyes. The birth of Fazhi's PCB assembly products.
DIP workshop live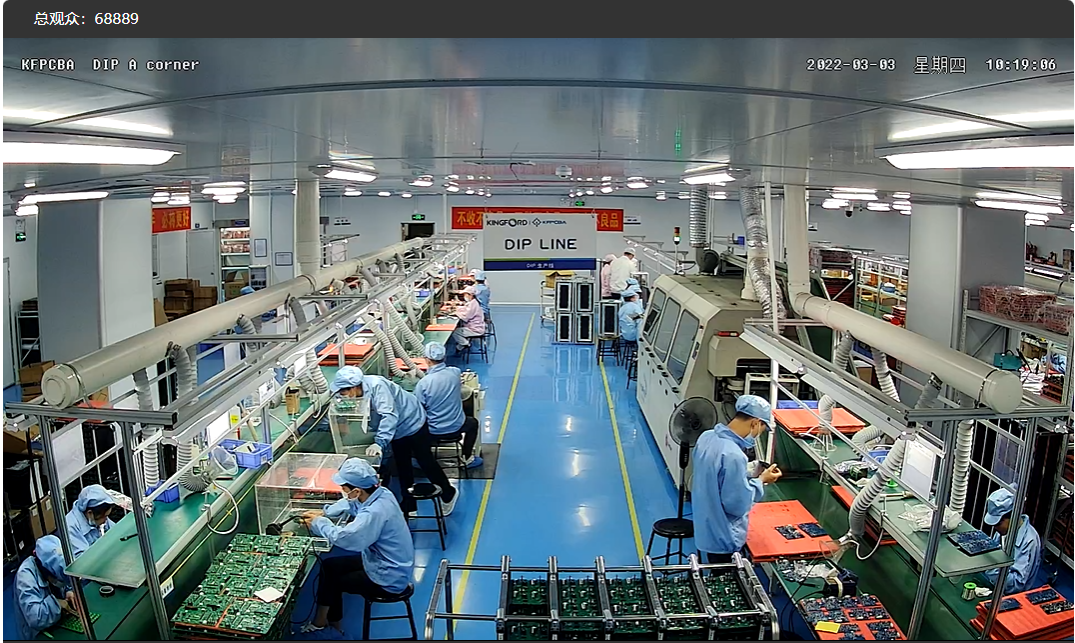 KFPCBAhas launched a 24-hour factory live broadcast around the world, using the most authentic open attitude to break through the information gap between customers and enterprises, just to establish and enhance mutual trust, so that customers can see the most real us, the future, Kuaifazhi Manufacturing will live up to the trust of customers, let customers jointly supervise product quality, and continuously provide customers with higher-quality one-stop PCBA intelligent manufacturing services.
Follow-up KFPCBA will install more cameras to further open more production workshops, so stay tuned. Kuaifa Zhizao online live broadcast address:
SMT workshop: https://www.kfpcba.net.cn/live/smt
DIP workshop: https://www.kfpcba.net.cn/live/dip
Comment on this article here

Ripple
​Hi everyone, I'm Ripple, Sales Director of KFPCBA Tech Ltd. If you are looking for a one-stop PCB and PCB assembly manufacturer in China, KFPCBA is your best choice! Please feel free to contact our team! Thanks!
Contact me now
Relevant content you may be interested in