Factory Selection for Medical PCB Assembly
Release date:2023-03-27 17:18:06 Number of views:0
Printed Circuit Boards (PCBs) are an essential component of modern medical devices. The development and manufacture of medical PCBs require specific design considerations, manufacturing processes, and assembly techniques to ensure they meet the high standards of the medical industry. In this article, we will discuss the design, manufacturing process requirements, and selection of assembly factories for medical PCBs.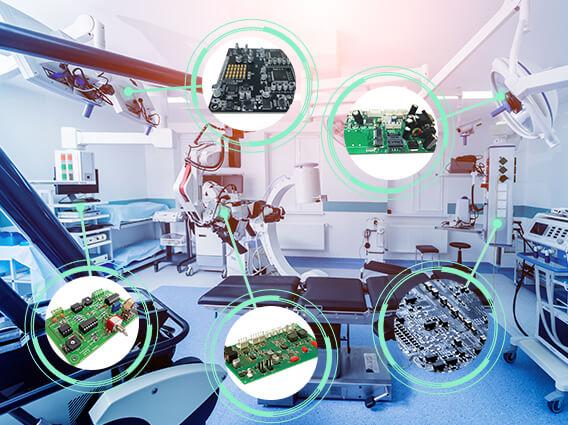 Design:
Design considerations for medical PCBs include the size, shape, and placement of components to minimize interference with other medical devices. The PCB must also be designed to withstand harsh medical environments, such as temperature fluctuations and chemical exposure. The use of high-quality materials, such as gold or platinum, can enhance the reliability and longevity of the PCB.
Manufacturing Process Requirements:
The manufacture of medical PCBs requires adherence to stringent quality standards to ensure that they meet the required specifications. The process should begin with a design review and validation to ensure that the PCB meets the design requirements. The manufacturer should use cleanrooms to prevent contamination of the PCB during the manufacturing process. The PCB should also undergo testing to ensure that it meets the required electrical and mechanical specifications.
Assembly:
The selection of an assembly factory for medical PCBs requires careful consideration. The factory should have a proven track record in the assembly of medical devices and the necessary certifications, such as ISO 13485, to ensure compliance with medical device regulations. The factory should also have a cleanroom to prevent contamination during the assembly process.For example, the dust-free SMT production workshop of KFPCBA company provides a good production environment for medical PCB assembly. We serve many medical machinery companies around the world, such as GE, Mindray, etc.
Conclusion:
Medical PCBs are critical components in medical devices, and their design, manufacture, and assembly require specific considerations to ensure they meet the high standards of the medical industry. The use of high-quality materials, adherence to stringent quality standards, and the selection of a reputable assembly factory are critical to the success of medical PCBs.
Comment on this article here

Ripple
​Hi everyone, I'm Ripple, Sales Director of KFPCBA Tech Ltd. If you are looking for a one-stop PCB and PCB assembly manufacturer in China, KFPCBA is your best choice! Please feel free to contact our team! Thanks!
Contact me now
Relevant content you may be interested in